For more information about the books, click over the cover images...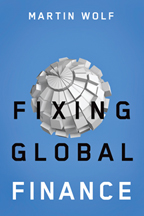 The latest book from Financial Times columnist Martin Wolf explains why global imbalances cause financial crises—including the one ravaging the United States right now—and outlines the steps for ending this destructive cycle. Reviewing global financial crises since 1980, Wolf lays bare the links between the microeconomics of finance and the macroeconomics of the balance of payments, demonstrating how the subprime lending crisis in the United States fits into a pattern that includes the economic shocks of 1997, 1998, and early 1999 in Latin America, Russia, and Asia. He explains why the United States is now the "borrower and spender of last resort," makes the case that this is an untenable arrangement, and argues that global economic security depends on the ability of emerging economies to develop robust financial systems based on domestic currencies. Sharply and clearly argued, Wolf's prescription for fixing global finance illustrates why he has been described as "the world's preeminent financial journalist."
U.S. national security policy is at a critically important crossroads. The Bush Doctrine of unilateralism, pre-emptive war, and the imposition of democracy by force has proven disastrous. The United States now finds itself vilified abroad, weakened at home, and bogged down in a seemingly endless and unwinnable war.
In To Lead the World , Melvyn P. Leffler and Jeffrey W. Legro bring together eleven of America's most esteemed writers and thinkers to offer concrete, historically grounded suggestions for how America can regain its standing in the world and use its power more wisely than it has during the Bush years. Best-selling authors such as David Kennedy, Niall Ferguson, Robert Kagan, Francis Fukuyama, and Samantha Power address such issues as how the U.S. can regain its respect in the world, respond to the biggest threats now facing the country, identify reasonable foreign policy goals, manage the growing debt burden, achieve greater national security, and successfully engage a host of other problems left unsolved and in many cases exacerbated by the Bush Doctrine. Representing a wide range of perspectives, the writers gathered here place the current foreign-policy predicament firmly in the larger context of American and world history and draw upon realistic appraisals of both the strengths and the limits of American power. They argue persuasively that the kind of leadership that made the United States a great--and greatly admired--nation in the past can be revitalized to meet the challenges of the 21st century.
Written by prize-winning authors and filled with level-headed, far-sighted, and achievable recommendations, To Lead the World will serve as a primary source of political wisdom in the post-Bush era and will add immeasurably to the policy debates surrounding the 2008 presidential election.
How do leaders perceive threat levels in world politics, and what effects do those perceptions have on policy choices? Mark L. Haas focuses on how ideology shapes perception. He does not delineate the content of particular ideologies, but rather the degree of difference among them. Degree of ideological difference is, he believes, the crucial factor as leaders decide which nations threaten and which bolster their state's security and their own domestic power. These threat perceptions will in turn impel leaders to make particular foreign-policy choices.
Haas examines great-power relations in five periods: the 1790s in Europe, the Concert of Europe (1815–1848), the 1930s in Europe, Sino-Soviet relations from 1949 to 1960, and the end of the Cold War. In each case he finds a clear relationship between the degree of ideological differences that divided state leaders and those leaders' perceptions of threat level (and so of appropriate foreign-policy choices). These relationships held in most cases, regardless of the nature of the ideologies in question, the offense-defense balance, and changes in the international distribution of power.
Beyond Sacred and Secular
Politics of Religion in Israel and Turkey
Sultan Tepe
The global rise of political religion is one of the defining and most puzzling characteristics of current world politics. Since the early 1990s, religious parties have achieved stunning electoral victories around the world.
Beyond Sacred and Secular investigates religious politics and its implications for contemporary democracy through a comparison of political parties in Israel and Turkey. While the politics of Judaism and Islam are typically seen as outgrowths of oppositionally different beliefs, Sultan Tepe's comparative inquiry shows how limiting this understanding of religious politics can be. Her cross-country and cross-religion analysis develops a unique approach to identify religious parties' idiosyncratic and shared characteristics without reducing them to simple categories of religious/secular, Judeo-Christian/Islamic, or democratic/antidemocratic. Tepe shows that religious parties in both Israel and Turkey attract broad coalitions of supporters and skillfully inhabit religious and secular worlds simultaneously. They imbue existing traditional ideas with new political messages, blur conventional political lines and allegiances, offer strategic political choices, and exhibit remarkably similar political views.
This book's findings will be especially relevant to those who want to pass beyond rudimentary typologies to better assess religious parties' capacities to undermine and contribute to liberal democracy. The Israeli and Turkish cases open a window to better understand the complexities of religious parties. Ultimately, this book demonstrates that the characteristics of religious political parties—whether Jewish, Muslim, or yet another religion—can be as striking in their similarities as in their differences.
Social Science Concepts: A Users Guide will prove an indispensable guide for graduate students and scholars in the social sciences. More broadly, it will appeal to scholars in any field who wish to think more carefully about the concepts used to create theories and research designs.
The Myth of the Rational Voter takes an unflinching look at how people who vote under the influence of false beliefs ultimately end up with government that delivers lousy results. With the upcoming presidential election season drawing nearer, this thought-provoking book is sure to spark a long-overdue reappraisal of our elective system.
.